5 in 1 Slimming Machine Liposuction Equipment For Sale Cryo Lipo Fat Freeze
5 in 1 Slimming Machine Liposuction Equipment For Sale Cryo Lipo Fat Freeze
Details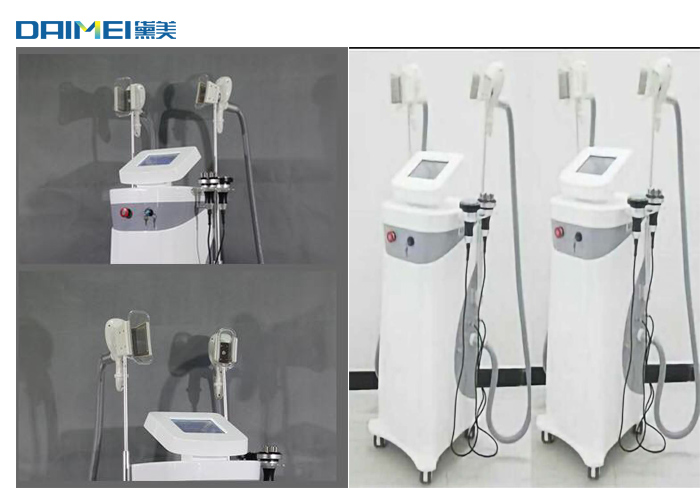 Device prameter Of Cryo beauty device
Power




800W




Pressure output




0-90Kpa




Screen




8.4 inch touched screen




Body RF




5Mhz




Lipo laser




650nm




Cryolipolysis




-10 °C~10°C




Size of cryolipolysis handle




15*6cm / 18*8 cm / 6*4cm




Cavitation frequency




40Khz




Technical advantages




* Non-surgery ,non downtime,no recovery

* The most popular slimming way in European countries

* Suitable for slimming for body parts like back,waist and cellulite

* First treatment can eliminate 26% fat




Pack size




131*66*61cm



Working principle
The fat loss equipment utilizes the multi-frequency ultrasonic cavitation technology to body slimming. The freezing technology allows instantaneous temperature of subcutaneous adipose tissue from -6~-10 degree, then the fat cells will gradually decline, and then eliminate from the body by lymphocytes. The multi-fruquency Ultrasonic cavitation produced by our fast loss equipment will melt the freezing solidfield fat cells, so that accelerate aging of fat cells and rapidly eliminate, and ultimately to achieve long-term slimming of local depth.
The Cavitation fat loss system is the new generation of design for body slimming, body shaping. The fat loss equipment is the advanced product for hi-tech body slimming, of with stable function. Uses two probes which can help you achieve treatment anywhere. The multi-frequency of cavitation what we used in our fat loss equipment is the latest ultrasonic cavitation technology. It can help salons create much benefit.
The frozen fat technology is using triglyceride in body fat to convert to solid at a low temperature of 5℃, and the frozen energy precisely controlled by the non-invasive freezing energy extraction device is transported to a designated fat-dissolving site, and the fat cell designated portion is specifically eliminated. After the fat cells in the designated parts reach a certain low temperature, the triglycerides are converted from liquid to solid. After crystallization, the fat cells die successively and excreted by metabolism,The body fat is gradually reduced, thus achieving the body-shaping effect of local fat-dissolving
Advantages:
1. 2 handles can work together
2. Soft handles,safe and effective
3. Advanced massage function,no burning mark
4. Double cooling plates,can be cool down rapidly
5. Easy operating,input the fat thickness, parameters will be calibrated automatically
Functions:
1. Slimming and fat dissolving
2. Tighten skin,anti-aging
3. Improve blood circulation and metabolism
4. Smooth scar and wrinkles
5. Smooth striae gravidarum
6. Enhance fibroblast elastic tissue
7. Weight loss, slimming
8. Skin tightening, wrinkle removal
9. Skin Rejuvenation:Tighten skin,fine wrinkles removal,whiten skin.
10. cellulite reduction
Contact Us
| | |
| --- | --- |
| Contacts : | DMay Yuki |
| Phone : | 86-13226688025 |
| Fax : | 020-2874135 |
| Email : | 1062603520@qq.com |
| QQ : | 1062603520 |
| Skype : | 86-13226688025 |
| Wechat : | 86-13226688025 |
| Address : | Xia Mao second clubs,Baiyun District, Guangzhou ,Guangdong province,China |
Update Required
To play the media you will need to either update your browser to a recent version or update your
Flash plugin
.
Facebook
Facebook : https://www.facebook.com/damay.yuki